Eicher Motors, is an Indian manufacturer and into the production of motorcycles and commercial vehicles. The organization has been there for decades, and is dominating roads all across. It is also the parent company of Royal Enfield.
VECV, a joint venture between the Volvo group and Eicher Motors, is bound to strengthen Eicher's position in the highly competitive commercial vehicle industry, comprising of Tata Motors, Ashok Leyland, Mahindra, Swaraj Isuzu, Bharat Benz and more. A leader in light and medium duty trucks, Eicher is trying to prove its mark in the burgeoning HCV trucks segment. The implementation of BS6 emission norms bring a lot of optimism in favour of brands like Eicher trucks and buses along with Daimler's BharatBenz, who have been mastering the art of producing BS6 engines for quite some time.
Eicher trucks and buses has introduced a complete range of BS6 commercial vehicles across the LMD and HCV truck verticals to cater to all sorts of transporter's requirements. What's more, these Eicher BS6 trucks come with some of the advanced features unheard of in this segment.
Here is a list of the latest & best Eicher BS6 trucks :
Eicher Pro 2049 BS6
A sub 5 ton GVW truck, Eicher 2049 is the most versatile light truck for all kinds of intra city needs, Eicher Trucks and Buses. Known to offer one of the best-in-class mileage and comfort,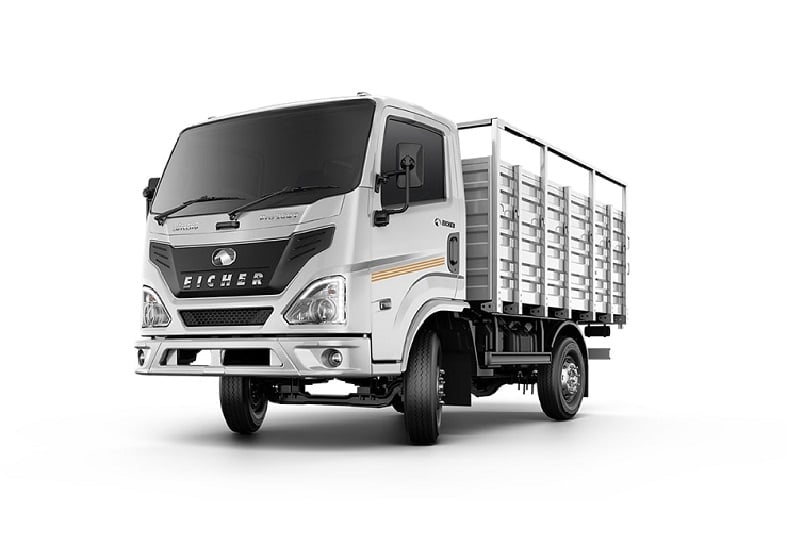 Eicher Pro 2049 is truly the badshah of city movements. Armed with the all powerful E 366 diesel engine that delivers a power output of 100 HP and a torque of 285 Nm, it offers a body length of 10.4 ft to carry all kinds of loads.
Fuel Coaching, Cruise Control, M-Booster+ technology driven multi drive modes and a touch screen infotainment system are some of the many notable features incorporated in this Eicher Pro 2049 BS6 truck. With applications ranging from transportation of groceries, to e-commerce and courier and extending up to poultry and LPG cylinders, the Eicher Pro 2049 is ideal for last mile connectivity and various distribution activities.
Eicher Pro 2055 BS6
With both the best-in-class payload of 4100 Kg and load body span for the price quoted makes Eicher Pro 2055 BS6, an extremely good buy. Durability, reliability and ruggedness are well-embedded in its structure. The unique 6 wheeler Eicher truck produces a power output of 100 HP and a maximum torque of 285 N. With a Gross Vehicle Weight (GVW) of 6950 Kg, deck length locked at 10.8 ft., a tyre size of 7.50 x 16 and multiple body types, makes Eicher 2055 BS6 truck well-suited for numerous applications across industries.
Eicher Pro 2059 BS6
Intelligent Driver Information System (IDIS 2.0), Green Band Fuel Coaching, cruise control system, M-Booster+ and grease free suspension are incorporated in the new BS6 compliant Eicher Pro 2055 truck. Another name for "convenience" is the new Eicher Pro 2059 BS6 truck. With a high rated payload of 4.2 tons, this Eicher BS6 truck ranks the highest in its class. Armed with the diesel powered E366 engine, with a couple of variants in its body length from 10.5 ft to 14.2 ft, Eicher's Pro 2059 truck is the one to go for.
Eicher Pro 2075 BS6
The new Eicher Pro 2075 BS6 delivers high on the parameters crucial for a customer like safety, performance, comfort, return on investment and dependability. Eicher Pro 2075 BS6 is furnished with the 4 cylinder E474 Turbocharged Intercooled CRS engine that can deliver a max. power of 120 HP. A gross weight of 7490 Kg, deck lengths starting from 12 ft. to 18ft, makes it well-suited for various applications. Armed with the latest technology, a commendable mileage thanks to the 5-speed (F5 + 1R) hybrid gearbox and driver comfort, places it well ahead of its competitors. To better compare the two and get some useful insights check the compare section on TrucksBuses.com !!!
Also Read : BharatBenz BS6 trucks launched
This Eicher BS6 truck comes equipped with Fuel Coaching, Cruise Control and M-Booster+ technology. To add to it, Air Brakes have been installed to provide superior safety to the occupants.
Eicher Pro 2095XP BS6
This Eicher BS6 truck is armed with the 4-valve E474 TCIC CRS engine that is available in both the PRM and DLX variants, with power ratings of 120 HP and 140 HP respectively. Eicher 2095XP BS6 has a GVW of 11100 Kg and comes with a multitude of variations in its cargo body length that ranging from 14 ft to 22 ft. The fuel-type is diesel and is equipped with a 5 & 6 Speed hybrid gear box depending on the variant you choose to buy. Adjustable driver seat and the tilt – telescopic steering gives the truck driver much-desired ease and comfort to go miles.
Eicher Pro 2110 BS6
Loaded with the powerful 3760 cc E494 4V engine that is capable to deliver a maximum power output of 160 HP and a maximum torque of 500 Nm, a GVW of 11990 Kg, cargo body with lengths spanning in the range of 17 ft to 24 ft, and fitted with 8.25 x 20 nylon tyres, Eicher Pro 2110 BS6 truck is set to take the road by storm.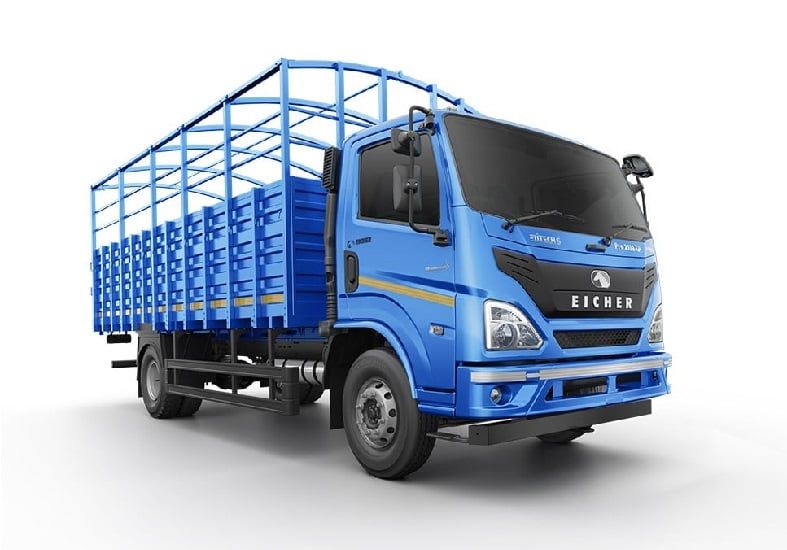 The BS6 compliant Eicher 2110 truck attains a max. speed of 80 Km/H and comes with a good 30% gradeability. The inclusion of a 7-speed (7F + 1R) gearbox is bound to grab eyeballs. It promises to deliver high rated payload, mileage, safety and comfort.
Eicher Pro 2110XP Plus BS6
A new 14 ton segment created recently in the ILCV segment, Eicher 2110XP Plus offers more payload and better operating economics than usual 12 and 13 tonner trucks. This Eicher BS6 truck is not very different from Pro 2110 and Pro 2110 XP BS6, except for a notable few parameter like GVW, gearbox and radial tyres. Pro 2110, Pro 2110XP and the Pro 2110XP Plus come with pneumatically operated parking brakes, air-controlled service brakes with the APDA unit, a 4-way adjustable driver seat and a tilt and telescopic adjustable steering to deliver high on comfort.
Eicher Pro 2114XP BS6
Eicher Pro 2114 XP marks the entry of Pro 2000 series trucks in 10-ton payload segment. With a 16 ton GVW and powered by 4 cylinder E494 engine, this segment was started by Eicher as a unique offering. Eicher 2114XP BS6 comes equipped with bigger 9R20 radial tyres and offers superior return on investment than compared to other conventional 6 cylinder engine trucks in the 16 ton GVW segment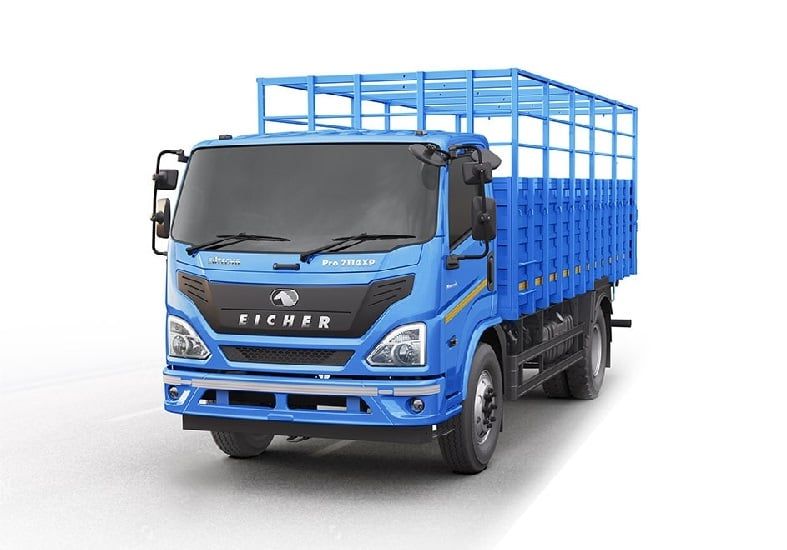 Eicher Pro 3019 BS6
Pro 3019 from Eicher Trucks and Buses comes with an increased gross weight of 18.5 tons as per increased axle loading norms and comes with a state of the art modern Pro 3000 series suspended sleeper cabin. It offers multiple load body options spanning from 20 ft. to 32 ft. that makes it suitable for multitude of applications. Optional air conditioner (HVAC), fuel coaching and multi drive modes are some of the advanced features in Eicher 3019 BS6.
Eicher Pro 6028 BS6
Based on Pro 6000 series platform, Eicher 6028 BS6 gets powered by joint venture's VEDX5 engine with 4 cylinders. A unique 4 cylinder engine for heady commercial vehicles, it delivers 210 HP of power and 850 Nm of torque. Available in both sleeper cabin and cowl options, this 10 wheeler Eicher truck offers 24 ft. to 32 ft. body length options with its total gross weight of 28 tons. Eicher 6028 BS6 comes fitted with all modern features that you can think off like, cruise control, furl coaching, multi drive modes, digital instrument cluster with lot of tell tales, 4 point suspended cabin, tilt and telescopic power steering, air brakes with APDA, etc.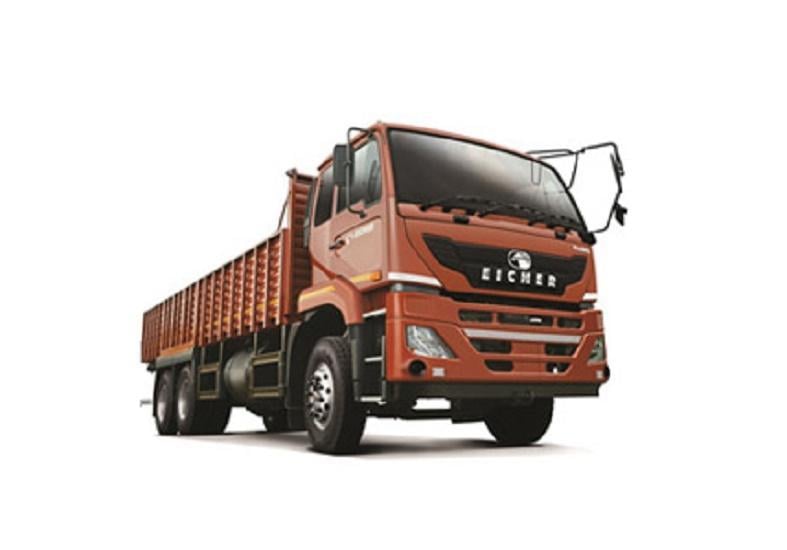 Eicher Pro 6035 BS6
This 12 wheeler Eicher truck in 8×2 axle configuration comes with GVW of 35000 Kg, and sports the same 5131 cc 4 cylinder VEDX5 BS-6 engine, which is based on Volvo's global platform. Eicher's BS6 compliant Pro 6035 comes with the provision of an optional HVAC (air-conditioner) to beat the heat and tubeless tyres for higher tyre life as well as reduced downtime in case of untoward incidents. It delivers high on comfort – the driver cabin being spacious and airy, reliability – ABS, pneumatically operated air parking brakes, and mileage – with the provision of a fuel-efficient engine.
Eicher Pro 6042 BS6
This mammoth 14 wheeler Eicher truck comes in 10×2 axle configuration with pusher lift axle and twin steerable axles in front. This heavy-duty BS6 haulage Eicher truck comes incorporated with bigger 6 cylinder VEDX8 powerhouse engine that promises to deliver a power output of 260 Hp and a torque of 1000 Nm. With an engine displacement of 7698 cc, which is roughly 5 times that of a Honda City, a 9-speed manual (9F + 1R) gearbox and an axle configuration of 10×2, this 14 wheeler Eicher truck is set to take any road by storm.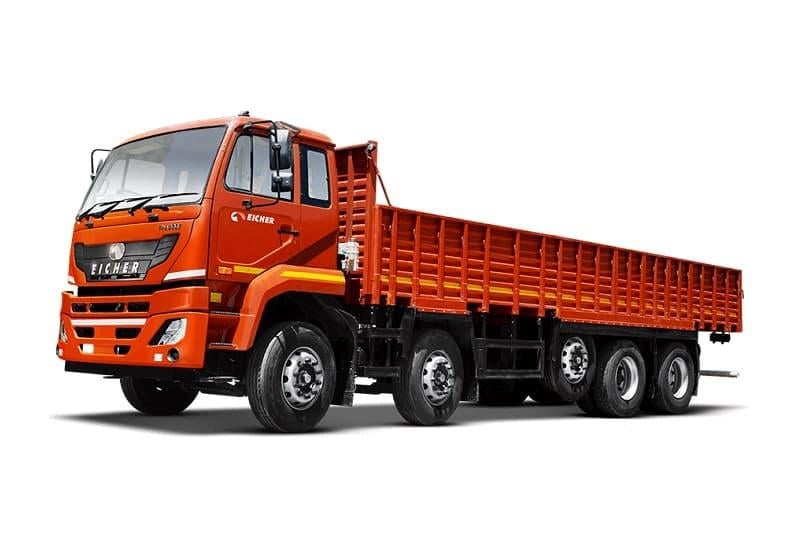 The Eicher Pro 6042 BS6 comes bundled with a plethora of benefits such as superior uptime, comfort, long drives coupled with a good average and is bound to give jitters to its competitors and joy to the customer.
Features include Fuel Coaching, Cruise Control, M-Booster+ and Eicher Live telematics solution, deemed to be India's most comprehensive trucking solution which aims at increased productivity and a desired profitability. It helps keep a track of fuel consumption, a check on maintenance and monitors the movement of trucks.
Eicher Pro 6048 BS6
Now presenting the higher GVW truck in rigid haulage category, the new Eicher 6048 BS6. This 16 wheeler Eicher truck comes offers a high GVW of 47500 Kg and gets powered by VEDX8 engine. The engine of the Eicher Pro 6048 comes coupled with a 9-speed manual (8F + 1CR + 1R) gearbox that is bound to offer a superior mileage.
Parabolic leaf springs at the front and slipper suspension at the rear with the inclusion of air brakes with APDA promise to deliver a comfortable and smooth ride, guarded with safety.
The diesel-powered Pro 6048 promises high on comfort, mileage and reliability. Features include Fuel Coaching, Cruise Control, M-Booster+ to switch between different driving modes and Eicher Live.
Eicher Pro 6055 BS6
Have you ever noticed trucks carrying massive roller like objects on highways? Were you awed by the sheer size of them? If yes, it should have been Eicher's Pro 6055 – India's first 55000 Kg GVW.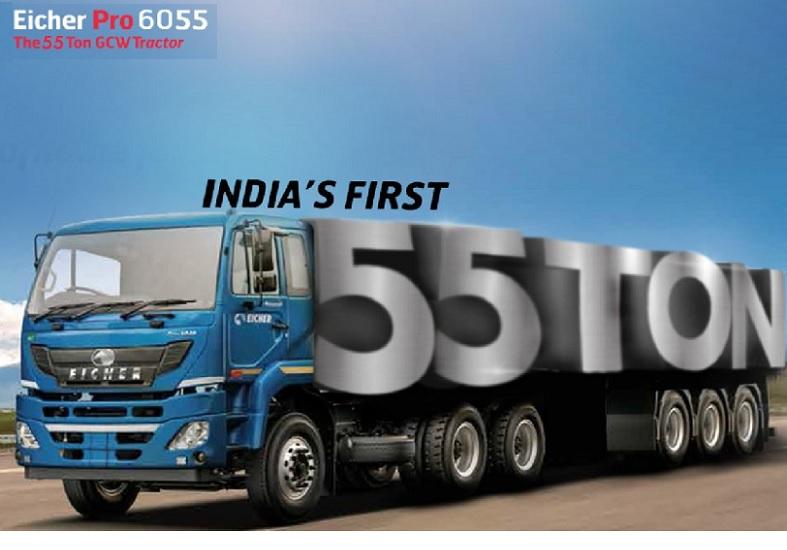 Powered with the VEDX 7.7 L CR DI, a power output of 260 [email protected] rpm, max. torque pegged at 1000 Nm and a tyre size of 11.00 R20 – 16PR, this Eicher tractor trailer is bound to dominate any road it travels on. Owing to the size of the load and length of the truck, they tend to move slowly.
Eicher's Pro 6055 is leader in fuel efficiency and productivity in its class. It does have intelligent systems in place, increased driver efficiency and delivers a good uptime. One of the unique features of this truck is that it gives customers the option to upgrade the vehicle to suit their requirements.
TIP Trailer, tanker, market load, ISO container, iron and steel and cement – these are the industries the Pro 6055 is widely in demand.
Please follow and like us: